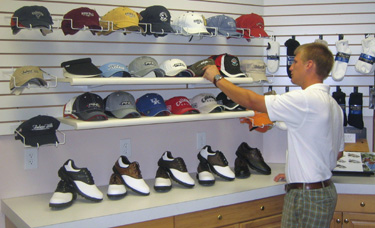 Keep cool on the fairways with the best in high-tech apparel.
Our Auburn Hills Golf Shop is well stocked with the finest golf equipment, apparel and gear, offered with the highest level of service in Southwest Virginia.
We carry golf balls, hats, gloves, apparel, towels, and more. If we don't have what you want, we can order it for you.
Most of our shirts and shorts are manufactured from the latest in high-tech, moisture-wicking materials designed to keep you dry no matter what the weather is like. Thanks to these new fabrics, golf has never been so comfortable before. As you play, you'll be thinking about that great drive you just made, not about how hot and sticky the weather is.