It's great to be a long hitter in golf, but accurate tee and approach shots can reward you more than raw distance when you play our outstanding course at Auburn Hills Golf Club in Riner, Va. Dramatic elevation changes of more 100 feet create the kind of excitement here that golfers savor. Here's your chance to drive your ball off elevated tee boxes to scenic fairways below.

The rolling terrain and large, undulating greens, many guarded by bunkers, are part of the many adventures in golf you'll find on our course.

Our course, built in 1999, was designed by Algie Pulley, a noted architect who has laid out courses at Chardonnay Golf Club in Napa, California. Apple Mountain Golf Club in Camino, California, and the Royal Virginia Golf Club in Hadensville, Virgina.

Our opening hole at Auburn Hills will give you a taste for what is to come, says Jeff Gandee, PGA Director of Golf. This straightaway hole, a 369-yard par-4, playing at 293 yards from the forward tees, with a generous fairway.

You're going to find that the first 3 holes are fairly open here; you then travel though tree-lined fairways for the next several holes, making for a great chance to test your shot making. The 8th through the 12th holes are fairly open as well.
The 8th, for example, a par-4 that plays at 367 yards from the tips and 237 from the far forward tees, is a slight dogleg right. After hitting from the elevated tee box to the fairway 80 feet below, you travel uphill slightly to an elevated, heart-shaped green, protected by bunkers on each side and in the back. Once you get through the first three holes on the back side, a number of risk and reward holes are here to challenge you. You can play it safe or go for it all during the next few holes.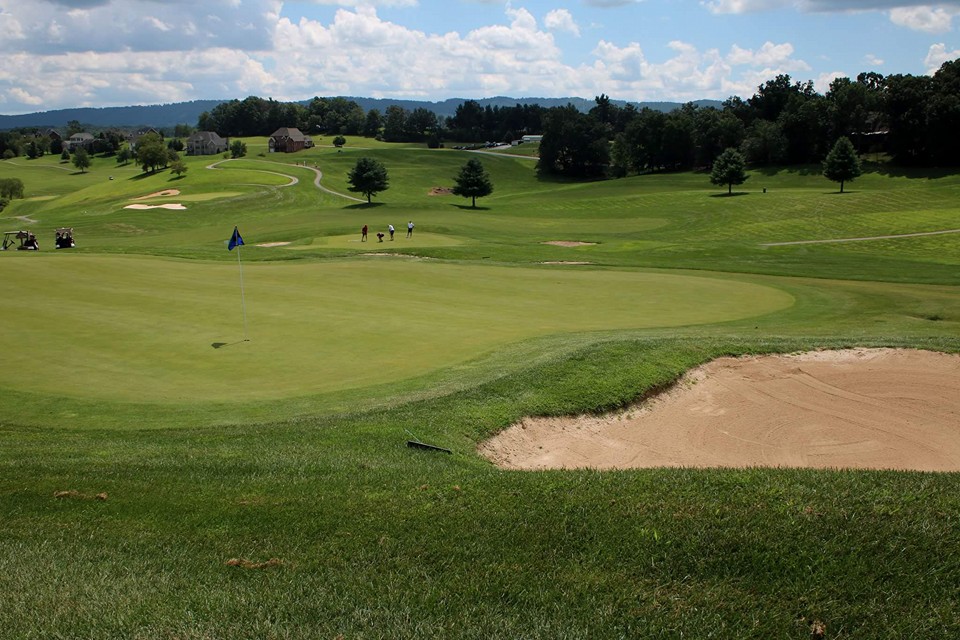 A good example is No. 13, a par-4 that measures 306 yards from the back and 215 yards from the forward tees, a definite favorite with long hitters. You're driving from a tee box elevated 100 feet above the fairway down to an area lined with trees. Many golfers go for it and try to blast over the corner of this short dogleg left. With the elevation change, it may feel as if you're hitting only a 200-yard shot. Golfers here will use anything from a 5-iron to a driver, depending on whether they want to take the gamble or not. If you lay up, aim for an area about 80 to 100 yards short of the green.

Our 17th is one of our most popular holes. This par-3 measures 190 yards from the back tees and 111 yards from the front. You'll be taking your tee shot from an elevated area about 50 to 60 feet above the green and firing away over two large ponds in front of the green.

Your target is a green that is the largest on the course, but don't be short, because this can be the toughest hole on the course if the wind is blowing. Club selection is crucial because you don't want to go long either or you might just end up in one of the enormous bunkers in the back of the green.

You'll close out your round with a short par-5, 516 yards from the back tees and 431 from the front. It's a slight dogleg right and is reachable for longer hitters who can make a strong, precise drive. But watch out for a bunker in front of the green and water on the right.
There are four sets of tees ranging from 4,807 to 6,534 yards so golfers of all abilities, both men and women, youngsters and older golfers, can enjoy their round with us.
Blue: yards 6534 , rating 71.9, slope 127
White: yards 6057, rating 69.5, slope 122
Gold: yards 5597, rating 67.6, slope 118
Red: yards 4807, rating 67.2, slope 113