Outings Are Our Specialty
Combine gorgeous scenery with an outstanding course plus friendly and experienced service for the golfing time of your life.

We know all about what it takes to hold golf outings and tournaments at Auburn Hills because we have top-notch, professional experience. Every year we hold events for members, seniors as well as outside groups. But we'd love to have more bookings from companies, charitable organizations and groups of friends and family. We urge you to check out our course and outing plans before you go elsewhere.

Your golfers will love the scenic overlooks they'll find on many holes on our course. A panorama of the Blue Ridge Mountains is the backdrop for an outstanding round of 18 where you'll hit from many elevated tee boxes down to well-manicured fairways and greens. Your players will be talking about the golf and the scenery for months afterward.

We can handle up to120 golfers any day of the week that suits you. Our prices are competitive and depend on what day you choose and how many players you bring to Auburn Hills. Fees range from $29 to $41, not including food. Alcohol must be purchased from Auburn Hills Golf Club.
Our Services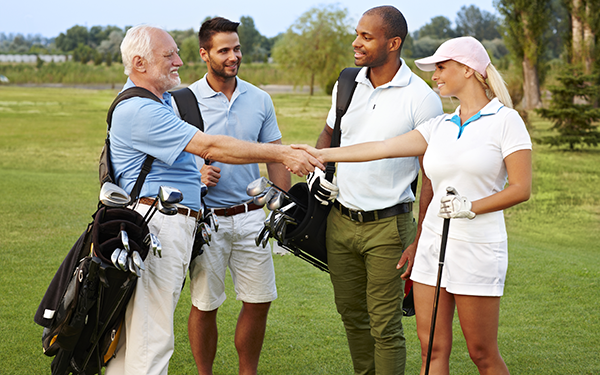 We take care of every possible detail so that you can go out and play golf while we do the work. Services available are as follows:
We provide personalized cart signs with hole assignments and scorecards, all designed to make your guests feel at home.

Professional scoring will give you accurate results for your event.

We give your players printed rule sheets with local rules and your event rules so everyone will be sure of what's going to happen.

We set out special event markers (closest to pin, long drive, and more) for your contests.

We'll give you assistance with establishing handicaps for players who do not have them.

Tee gifts and awards can be purchased from us at discounted prices for your guests.

Auburn Hills Staff will place sponsor signs on the course and pick them up afterward.

Registration tables and chairs are provided.

Food and beverage hospitality cart can travel the course to assist your guests for an additional charge.

We have a full food and beverage menu of delicious cuisine for your players. Click here to view our outing menu.

Merchandise, gift certificates or trophies are available for prizes.

Range balls are provided so your guests can warm up on our generous-sized range.

On-course play monitoring is done by our staff.
Full Service Events
Another word about food; we will gladly work with our menu & your choices to provide the meal you want for your outing.
We can also do box lunches if you wish or continental breakfast. Just give us a call to find out about the options.
For more information about hosting an outing at Auburn Hills, click here or call now: 540-381-4995.
Tournament Schedule 2023
April 4th Tuesday 9am Senior Tournament
April 13th Thursday 1pm Phika VT
April 14th Friday 1pm Auburn Christian Academy
April 16th Sunday 9:30am VT Father/Son
April 22nd Saturday Grace Christian Academy
April 29th 9am Saturday Spring Showdown
April 30th 2pm Sunday Eastern Mont Baseball
May 2nd Tuesday 9am Senior Tournament
May 7th Sunday 2pm Christiansburg Football
May 27th Saturday One Day Member/Member
June 6th Tuesday 9am Senior Tournament
June 7th Wednesday 12:30pm Steelworkers
June 9th Friday 2pm Christiansburg High School Golf Outing
June 24th Saturday 9am Summer Showdown
July 11th Tuesday 9am Senior Tournament
July 15th & 16th Saturday/Sunday 9am Summer Invitational
July 17th Monday 10:30am VSGA Junior Golf
July 21st Friday 1:30pm Jim Wolfe Memorial Tournament
August 1st Tuesday 9am Senior Tournament
August 12th Saturday 9am Epslon/Hexaton
August 19th & 20th Saturday/Sunday 8:30am Club Championship
August 21 Monday 9am Roanoke Valley Senior Golf Association
September 5th Tuesday 9am Senior Tournament
September 11th Monday 1pm Christiansburg HS Golf
September 23rd Saturday 9am Auburn Basketball
October 3rd Tuesday 9am Senior Tournament
October 7th Saturday 9am Fall Showdown
October 7th Saturday 9am Fall Showdown
November 7th Tuesday 9am Senior Tournament